I don't like these mid week games but if you're going to have more teams, it's necessary to squeeze it in prior to Memorial Day.  On a little rant here, I don't feel that it's right for the D1 teams to have to play 2 games in 3 days.  You prepare for games on Saturday with only a couple during the week over the course of a season.  A fluke injury or crazy weather conditions can cause you a championship.
Okay, rant over.
It's crazy that 3 out of the 4 match ups have seen each other already this season and that this will be the third meeting between Wesleyan/Middlebury and Salisbury/Stevenson.
Defense is said to win championships and it's more evident this year than ever.  Roanoke dominated offensively with a pretty weak schedule all season and were taken down handidly by the #2 defense in the land of Denison.  7/8 teams are in the Top 20 defenses (based on GA).  Middlebury is the only one still around still not on the list.
-NORTH-
Western New England @ Cortland
Cortland dominated WNE way back in February.  Has anything changed since then?
WNE's season was a good one.  With their only losses coming to playoff bound Cortland and Tufts.  Their big wins against playoff caliber teams were against Naz and Springfield.
Cortland started out their season dominating playoff teams like WNE, Montclair and Gettysburg, but then they seemed to take a nap and go through the motions until May came around again.  They lost two tight ones to Ithaca and Geneseo and a feel good win in between to Naz.   But maybe it's just common now to watch them stampede through the bulk of their schedule.
Attack - EVEN
Midfield - ADV - Cortland
Defense - ADV - Cortland
Goalie - ADV - WNE
Storyline - If You Haven't Been Watching, We've Reloaded
Overall - ADV - Cortland
Prediction - Cortland 15-9
Wesleyan @ Middlebury
The first of two conference rivalries to meet in the Elite 8. Middlebury is 14-2 so far this season with two losses thanks to Wesleyan.  Both games were decided by one goal and the 2nd was a goal infested 15-14 game!
In a comparison of the two, both have senior laden rosters at key positions and both are truly tested after a tough NESCAC schedule.  Take a look at the attack units of these two teams!  It's tough to point out any flaws except, that 2/3 of Wesleyan's losses came to weaker opponents (Bowdoin, Williams).
Attack - EVEN
Midfield - ADV - Middlebury
Defense - ADV - Wesleyan
Goalie - Wesleyan
Storyline - "The 'Stone' or 'Spike' Show"
OVERALL - Slight Edge to Wesleyan
Prediction - Wesleyan 13-12 OT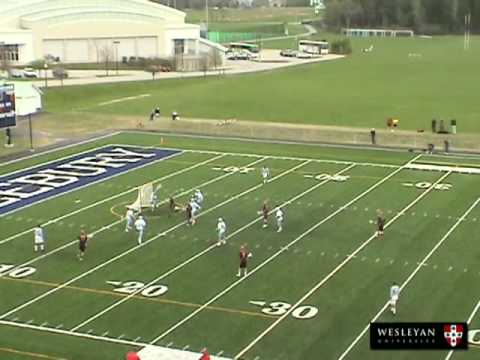 -SOUTH-
Denison @ Gettysburg
These two did not face each other in 09.  Both took down OWU (Denison twice) and both teams got beat by Stevenson.  Gettysburg has turned their season around since then so that cannot be the deciding factor.
Against playoff teams, Denison had only played two, the aforementioned OWU and Stevenson games.  Gettysburg faced both of those as well and 5 others losing to Cortland and Haverford, then beat Haverford Cabrini and Salisbury
Attack - ADV Gettysburg
Midfield - ADV Denison
Defense - ADV Denison
Goalie - ADV Gettysburg
Storyline - The Tommy Kehoe Factor
Overall - ADV - Gettyburg
Prediction - Gettysburg 9-8 OT
Salisbury @ Stevenson
No need to compare like opponents in this grudge match.  Having faced similar foe all year and this will be the third meeting, we're in for a good one.  If Salisbury plays like they did in their first match up, game to Stevenson.  If Stevenson plays like they did in the second match up, game to Salisbury.  If both teams play the way they did when they won…well.
Attack - ADV - Stevenson
Midfield - EVEN
Defense - ADV -  Salisbury
Goalie - EVEN
Storyline - The Battle Behind at X
Overall - EVEN
Prediction - Salisbury 13-10