With the game of lacrosse growing at such a rapid pace, it's tough to keep up with all the teams, gear, moving of professional teams and new faces of stardom.  But hidden beneath all the hype of the top NCAA teams and MLL / NLL all-star games is the growth of the game at the college club level.
The club game has emerged and is flourishing at both huge universities and smaller schools all over the country.  Its growth has gone unnoticed by many following the game.  If you are a lacrosse traditionalist, you would not believe the amount of established teams and leagues that are available to college athletes these days.  And yes, they have sweet jerseys, helmets, gloves, droves of fans coming out to their games and National Championship weekends!
As the women's game is moving to the NCAA at many schools in Middle America and out West, the men's teams at most schools do not have the opportunity to move to NCAA status for participation reasons. (Yes, Title IX)   But that is no reason for these teams to lose a competitive edge or even recruit some insane athletes.  It just means that these student athletes have an alternative to play college lacrosse at the 'club' level. 
Having personally played with and against many college club players, I found myself amazed at the organization, competitiveness and skill level of some of these teams.  It didn't even cross my mind to go the college club route when I was choosing where to play ball.  Imagine going to schools such as USC, Arizona or Oklahoma to play lacrosse!?  I didn't.
While playing in a Hero's game one summer in Annapolis, MD, I found myself guarding an in shape and talented youngster who had a local area high school helmet on.  I asked him where he was going to school next year and he said, "University of Florida".  I thought to myself, "Florida…REALLY!?"  It turns out that there was more to lacrosse than what I knew.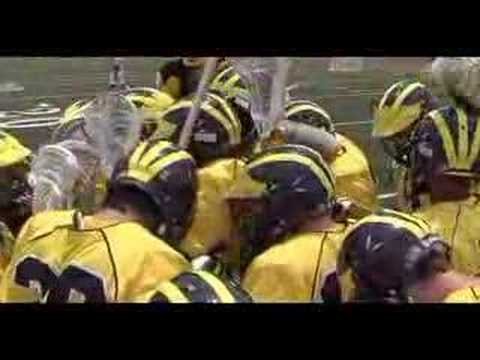 The largest of the college club leagues is the MCLA (Men's Collegiate Lacrosse Association).  According to their website, "The MCLA currently operates in the US and Canada with 213 teams in two divisions, across ten conferences."   That's right, 213 teams!!!  With huge schools such as Michigan State, Texas A&M, Tennessee, BYU, UConn, and 200+ others paving the way, the MCLA is filled with great lacrosse and the complete college experience.  
But it doesn't just stop there.  The NCLL (National College Lacrosse League) has over 100 teams participating as well.  The NCLL contains some schools with varsity programs at all levels but that's a lot of teams playing the sport of lacrosse.
In 2008, the defending NCAA National Champions, Johns Hopkins University made a trip out to Ann Arbor to scrimmage the highly ranked MCLA University of Michigan team.  This wasn't only a huge deal for the folks at Michigan, but this was also a big deal to folks who did not know about what the club game had to offer.  Personally, I think it opened the eyes of many high school players who were making their own choices of where to continue their careers.
In due time, some of these teams will be making their way to the NCAA level and it will forever change our sport.  In a positive way!